Social media is a powerful tool for small brands to reach audiences and to interact with potential customers. Unfortunately, it's also easy to get stuck in the echo chamber of your own content (and that of your competitors). To get out of this loop, try these five strategies to increase your social media engagement.
1. Initiate Conversation with Your Social Media Followers
It is important to build and maintain relationships with followers on social media. One of the best ways to do this is by initiating conversations with them through comments, tweets, and posts. This will help your followers feel like they're part of a community and not just a number following you for updates on an event. It can be as simple as asking them how their day is going or sharing a story from your day. Here are 5 ways to start conversations with your follows.
1.1 Respond to Questions and Customer Issues
When you engage with customers, you not only show them that you care about their concerns, but also make them feel valued in turn. As a result, they might develop a loyalty to your brand. Engaging in customer service conversations is an opportunity for you to build trust and establish rapport with your audience. It also allows you to respond when someone has posted an issue or question about something specific in the past.
1.2 Ask Specific, Pointed Questions
One way to make your social media posts more interesting is to ask specific, pointed questions. This strategy is particularly effective when you have a large following that you want to engage with. You will also need to prepare for responses by having a list of topics at the ready.
1.3 Do AMAs (Ask Me Anything)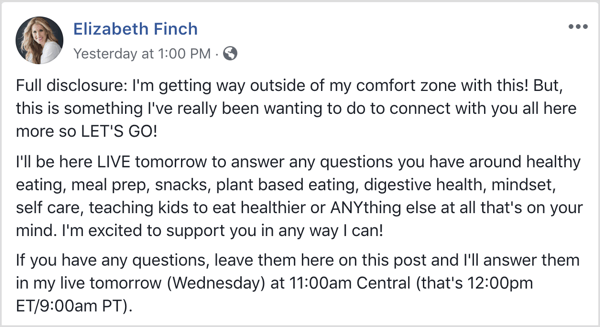 Reddit has a subreddit called "IAmA" or I Am A. The person in the AMA is usually an expert of some kind in their field, but they're also willing to answer any questions that are being asked by other Redditors. For example, someone might post an AMA saying they are a dog trainer and will answer any questions about dog care or training. This can be a great way to get your company's name out there on social media. Of course you can do this on any social network, not just Reddit.
1.4 Ask for Feedback
One of the most effective ways to increase engagement is by asking for feedback. When you post something on social media, the next logical step is to ask your followers what they think about it. This can help generate even more content for your audience because it makes them feel like their voice is heard and valued.
1.5 Show Gratitude to Fans
A simple way to get the most out of your social media posts is by showing appreciation to your followers. Remember that you are connecting with people and not just machines so be sure to post something personal about yourself or a thank-you message to a customer who has made a purchase from your store.
2. Promote User-Generated Content to Your Fans
One way to increase your social media engagement is to promote the content that your fans create and post on their pages. This not only helps you out and attracts more followers, but it will also keep people coming back again and again. Just like you, your followers will be grateful that someone is sharing their content. Not sure where to start? Here are 4 ways to promote user-generated content.
2.1 Respond to Mentions
If you are serious about increasing your social media engagement, you should make sure to respond to people who mention you on social media. A recent study found that brands who responded to mentions saw an average of 2.7% increase in engagement with their followers. When brands don't respond, the follower engagement decreased by an average of 3%.
2.2 Use Hashtags That Relate to Your Business
Hashtags are an important aspect of social media. They help users find your content more easily, they assist in connecting with other people, they can be used to promote your business or products on social channels, and they even have the potential to increase your search engine rankings through the inclusion of keywords. Spend time looking at other accounts in your niche and what hashtags they use. You can also use hashtag research tools to find the most suitable hashtags for you.
2.3 Share Customers Reviews and Emails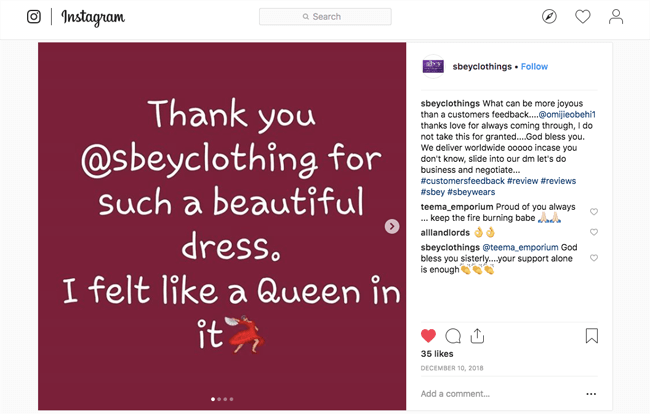 To make your business more successful on social media, you need to post content that will engage people. One way to do this is by sharing genuine customer reviews and emails from happy customers. For example, a company could share a customer email with a story about how their product solved their problem or gave them more time for themselves. People want to know how the products they buy are going to make them feel and if they're going to be as good as advertised.
2.4 Host a Giveaway Contest
If you've been trying to figure out how to increase your social media engagement, you might want to consider hosting a giveaway contest. Giveaways are a great way to get your followers excited about your brand and give them a chance to win prizes in return.
3. Be Active on Social Media
Just like in real life, you need to be active on social media. No one likes brand accounts that simply promote themselves but have no engagement with their community. The more time you spend on the platform, the more quickly your posts will go viral. To be most successful, it is best to post at least once or twice per day. Each time, write something different so that each post has a unique personality. Here are 3 methods you can adopts to be more active on social media.
3.1 Curate and Promote Other People's Content
This is a great way to get in front of your market with valuable, interesting content without having to spend months creating it. Remember that the goal is to be helpful and shareworthy. Share content that resonates with your and your brands values, is informative and provide a benefit to your own fans. Don't be afraid of promoting another brand either, as long as your values align and уou're not doing it too frequently. The strategy here is to offer value, and share in a relevant way.
3.2 Regularly Follow Relevant and Active People in Your Industry
If you don't have a lot of time to spend on Facebook or Twitter, this is the most important thing you can do. Follow people in your industry that are posting relevant content. You can also follow influencers who have a large following in your industry. This will help them see you in their newsfeed and increase your reach in your industry.
3.3 Shout Out to Amazing Content Creators
Another way to increase your social media engagement is by reaching out to content creators. Reach out to them on Twitter or Facebook and tag them in your post. Tell them how much you appreciate their efforts and provide constructive feedback. Be proactive in seeking out content creators who can help you accomplish your business goals. This will establish a mutually beneficial relationship that can change both of your lives for the better.
4. Post high quality content
One of the most important social media strategies is to post quality content. People will stop following your page if you only post irrelevant memes or spam. It's better to share content that is related to your business or industry so people can learn more about your product or service. Stay on topic, offer value and your content will always be relevant. Check out these 3 strategies for posting higher quality content.
4.1 Create Original and Engaging Visuals
A new study found that images are the most engaging type of content on social media. The study also reported that videos increase engagement, but only if they're high-quality. Images are still the most effective way to boost your social media marketing strategy. Not everyone is a graphic designer and you are not alone if you feel overwhelmed at the mere thought of finding high quality images and video, let alone how to put them together to create visually engaging content. However, apps like Canva are an absolutely godsend, they require little to no previous knowledge of graphic design, offer a huge range templates, images, videos and animations and is a very easy platform to pick up and learn. We use Canva daily simply because it is fast and convenient, plus they offer other tools like Post Scheduling (see below).
4.2 Create More Video Content
Videos are the perfect way to share information with followers. It's also a great way to get more exposure on Facebook and Instagram because you can reach a wide audience with just one post. They also capture far more attention span than any other type of post on social media. If you want to engage with your customers in a new way, it's time to invest in video content. If you have a modern smartphone you already have all the tools you need. Remember to take some time and consider where you will shoot the video, keep a light source behind the camera, and pick a quiet spot as video with bad audio is worse than no video at all.
4.3 Write Captivating Headlines for Social Media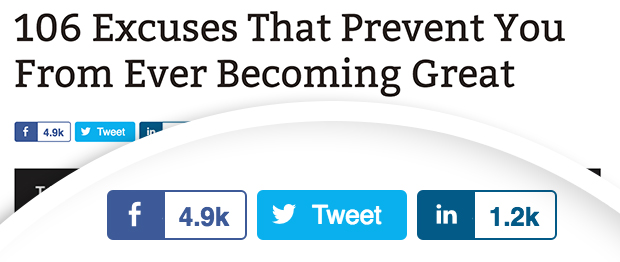 The headline is the most important part of a post because it becomes what people will see before clicking on it. You want to make sure that your social media headlines are engaging and enticing so that they will want to click on the link. A good headline should be short yet descriptive, and you should use keywords in them if possible. If you feel stuck then look at AI writing tools (trust us) as they can make quick work of writing original headlines and other content. Check out Copymatic, Jarvis, Scalenut or any other service and pick one that works with your requirements and budget.
5. Track your analytics and use power tools
Understanding your analytics is an important part of knowing how to increase your social media engagement. This will help you know what content has the most engagement, when people are online, and which platforms are most popular in that time frame. You can also use power tools to automate some aspects of your content production so you have more time for engaging with followers. Do these 2 things to improve your productivity.
5.1 Schedule your posts for the right time
One of the most important things you can do to increase your social media engagement is schedule your posts for the right times. For example, on Twitter, a tweet will have a higher reach if it's posted in the morning. This is because people are more likely to see it on their home feed while they're starting their day. You can further adjust this by looking at your own account analytics as most platforms will show you what days and times your own followers are most active.
5.2 Use scheduling apps
Social media is a great way to connect with new customers, but it can take up a lot of your time. To save yourself time, you can use scheduling apps to post on Facebook, Twitter, Pinterest, and Instagram automatically. These tools usually have an easy-to-use interface that makes posting simple. Some of our favourites are; Later, Canva and buffer.com but there are plenty more on the market.
Conclusion
There are many ways to increase engagement on social media and as a result the entire process can seem overwhelming. Which strategy will be right for you will depend on how much time and skill you have to dedicate to your social media accounts. Don't try to do everything at once as this will be too much to take on and you are likely to stop all together. Instead pick one or two methods and stick to them, with practice you will become more proficient and you will be able to add more strategies to your social marketing mix.
Did we miss anything? What is your most effective strategy? Let us know in the comments.